August 22, 2021 (Tenrikyo 184)
Honjima Grand Church Head Minister's Meeting
Let's make hinokishin part of our daily lives.
Rev. Kanta Katayama
Honjima Grand Church Head Minister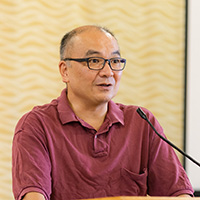 (Summary)
On June 27th, the Convention to commemorate the 50th anniversary of the formation of the Tenrikyo Disaster Relief Hinokishin Corps was held at the Yoki Hall.
At the convention, Director-in-Chief of Administrative Affairs Rev. Zensuke Nakata read a message from the Shinbashira.
I'd like to read the last part of that message.
"In your daily lives, I'd like you to devote yourselves to proactively implement the practice of Hinokishin and continue to develop the Hinokishin spirit. With this, we can look to the goal of receiving blessings of a world with no disasters."
Every year, many places suffer from damages done by natural disasters such as floods and earthquakes. There is no shortage of disasters.
This year, there has been a lot of rainfall in Japan, however in Brazil, there have been droughts and frost damage that has greatly impacted the production of coffee beans.
It is gratifying if we can receive blessings of fire, water and wind in good balance, but that is not how it always is.
God the Parent, with the Parental heart to save humankind, must be frustrated with the slow spiritual maturity of us children, and with a deep regret, shows us these disasters as guidance for us to "build up your minds and hearts."
Through this, I feel the Shinbashira is saying to "proactively implement the practice of hinokishin within our daily lives."
The "implementation of hinokishin" is also "practicing the teachings." This is also to be carried out "within your daily lives." This is not hinokishin to be carried out during a special gathering, when on duty or during a disaster relief, much less to say, words alone would not serve its purpose.
I feel we are being taught, that if not carried out with an "attitude of hinokishin," or the "spirit of hinokishin" on a normal basis, it will not be hinokishin in its true essence.
Prior to implementing hinokishin, it is important to feel gratitude toward the daily blessings received from God the Parent. It is hinokishin to repay the blessings we receive. I want to reflect my gratitude to God the Parent for the blessings received with the manner in which I do hinokishin.
Finally, so that we can receive the blessings of a world without natural disasters, let us always strive to do hinokishin daily.
(Edited by Honjima Tsushin Editorial Staff)