February, 22, 2020 / Tenrikyo 183
Honjima Grand Church Head Ministers' Meeting
Let us make the Service day one on which can dream our dreams and talk about them
Rev. Kanta Katayama
Honjima Grand Church Head Minister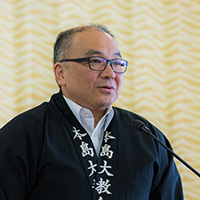 (Summary)
At the Seminar for Head Ministers and Spouses, held on January 25th, I said, "Let's talk about our dreams at church." I spoke especially about the 26th, when the Church Headquarters Monthly Service is performed, to be a joyous Service day when we dream our dreams.
In these worrisome times, those of us who are yoboku are able to completely believe in God the Parent as an absolute god. I think it is important for us to have more peace of mind and talk about our dreams.
When I tell people that Honjima has no stores or traffic signals, they are surprised. Many people don't believe me. When I say, "But in the future, I hope to send a ship to Osaka to pick up people who are returning to Honjima to worship," it makes people laugh and it makes us feel happy.
Dream a dream. Make fun plans. I don't know if they will come true or not, but on the 26th, I hope we can talk about our dreams near our everliving Oyasama. I hope we can talk about our churches, ourselves, our families, our communities and make fun plans.
Next month, we will hold a vertical mission seminar at the Grand Church. I hope many people will come to this.
(Edited by Honjima Tsushin Editorial Staff)