April 14, 2021 (Tenrikyo 185)
Honjima Grand Church Head Minister's Meeting
Let us look back on our homework from the Shinbashira as we head toward our Commemorative Anniversary
Rev. Kanta Katayama
Honjima Grand Church Head Minister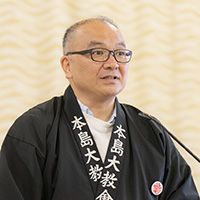 (Summary)
We are getting into the month of May, and we are going to be celebrating the 120th Commemorative Anniversary of the establishment of our church very soon. The Shinbahira gave us a lot of homework in his address 10 years ago at our 110th Anniversary. Is our homework done? We have a month until our Anniversary so I would like for us to do as much of our homework as possible so that we won't get a zero.
Now, I would like to look back on his address from the 110th Anniversary.
"When our mind remains unchanging from that of those who requested to establish the church, we will be able to receive unchanging blessings of a church."
I believe this is something that you have heard many times.
Further, he also said:
"The Path of Honjima was not founded in a day. During the 110 years, your forefathers and predecessors followed the Divine Model of Oyasama. It is because of their footsteps that you are here today."
Also, he said:
"As years and months go by and people change generation after generation and we start to lose the memories of the olden days, we might say that it cannot be helped if there are changes in people's minds.
To say that people in the olden days thought like that but since the era is different now and so we cannot think in the same way—I don't think we can say that this is a religious way of thinking.
To proceed with care and not break the promise that we made with God the Parent at the time of our church establishment, keeping that promise as our promise of today and for generations to come, would be responding to God that Parent who has granted us the church name which is for all eternity."
In these 10 years, society and this grand church have changed considerably.
However, no matter the circumstances, seek out the Path of the Divine Model and follow this path with the thought that you are always accompanying the Everliving Oyasama.
Further, the faith Honjima aims to fulfill is evident in the lyrics of the song, "Honjima Ondo (Honjima Dance Song)."
There are five verses in the song, but eacg ends with the words, "let's go forward joyfully."
In the time of our predecessors, they had hardships different from we experience today. They suffered hardships related to food and to the uncertainty and fear of war. But even within those hardships, I'd like to think that they held their beliefs in the faith, thinking, "let's go forward joyfully."
We may not be able to score high on the homework assignments that we received from the Shinbashira, but let us resolve our hearts toward the 120th Anniversary of Honjima so that we can strive to become closer to Oyasama and move forward joyfully.
The theme is "Unity of Mind." If we lack even one person, we will not be united. I hope to be in unity with our hearts to welcome our anniversary in joyful mind. Thank you.
(Edited by Honjima Tsushin Editorial Staff)