August 22, 2020 (Tenrikyo 183)
Honjima Grand Church Head Minister's Meeting
"Don't be bound to assumptions and let's deepen our careful consideration of the truth."
Rev. Kanta Katayama
Honjima Grand Church Head Minister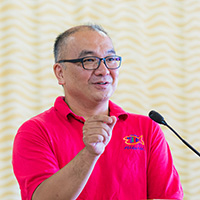 (Summary)
When I was a young child, my uncle, Rev. Yoshiharu Katayama, taught me shogi. Perhaps owing to that, when I lived in the United States, I won the class chess tournament in 6th grade. Chess and shogi have similar rules.
Due to such experiences, I was very interested in the shogi grand champion title match that took place the other day between Master Sota Fujii and Grand Champion Kazuki Kimura.
Today, I would like to talk about assumptions.
I think everyone has assumptions such as, "My Sazuke won't work anyway," or "my physical make-up doesn't allow me to lose weight," or "it's better not to call Hanshin fans on the day their team loses."
Ordinarily, in order to win in shogi, one tries not to get their strong pieces taken. An example of that is the "hisha." However, Master Fujii sacrifices his hisha, the strongest piece on the board, in exchange for a gin.
Normally, if one loses his hisha, one feels that "I have lost this match." I would probably get discouraged, thinking "that's it." However, although it seems disadvantageous, Master Fujii makes use of his remaining pieces and slowly gains the upper hand. Perhaps Master Fujii already saw far, far ahead.
I reflected upon myself that I may have been, perhaps, worrying about the future, getting swayed away by making assumptions, thinking, "Maybe this is not possible. I don't think this is going to work," and fall short to make an important first move and/or seasonal moves on situations presented before me.
Without getting caught up in making assumptions, I want to deepen my thoughts on the truth contained within and even if I fall short on the first move, I want to become a Yoboku who can still firmly make the second and the third move.
Especially during these uncertain times, let us extend our point of view, stay positive, and keep on making moves that enable us to live joyously.
Thank you very much.
(Edited by Honjima Tsushin Editorial Staff)