January 22, 2021 (Tenrikyo 184)
Honjima Grand Church Monthly Service Sermon
Focusing on performing the service with a unity of mind,
Conducting one-on-one salvation work
Rev. Kanta Katayama
Honjima Grand Church Head Minister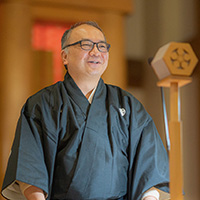 (Summary)
We have welcomed the 184th year of Tenrikyo—Happy New Year! God the Parent will probably show us various things as we strive for spiritual growth again this year, but I hope that we can encourage one another, lift one another up and advance in a unity of minds. I ask for your cooperation.
On January 4th this year, the Shinbashira gave us the following words:
"If it were not for the workings of God, we could not make any progress in our mission. From this point of view, it is of prime importance for us to firmly and straightforwardly settle the teachings in our minds in order to have God work for us."
In Kyudo, Japanese archery, there is a phrase, "seisha hicchu (true shooting, certain hitting)" This means proper posture in shooting will certainly lead you to hit the bull's eye, which teaches us, in order to achieve a successful result, one should focus on shooting property instead of focusing on hitting the target.
I believe we can apply this to our faith—instead of seeking successful results, we should check to see if we are using our mind in accordance with Oyasama's teachings. If we are able to use our mind correctly, we will certainly see a successful outcome and get closer to the Joyous Life World.
Presently, due to the Covid-19 pandemic, we are unable to participate in activities and events that we were having previously. I think God the Parent is telling us, "I will take charge of activities and events for a little while." So, what should we do?
It is the "Service." It is imperative to perform the service just as taught by Oyasama and in a way to realize the profound intentions of God the Parent.
Also, it is "Salvation." Especially since we cannot participate in activities or hold events, we should focus our efforts on face-to-face, one-on-one salvation work.
In the Shinbashira's words on January 4th, he pointed out,
"No matter how much missionary work is done, if we fall short in our efforts to nurture followers, it will not do. We must nurture them steadily. It was something that always had to be done, but I think that as time went by, such efforts had become neglected."
Perhaps it is thoughtfulness that is necessary when nurturing someone one-on-one. God the Parent will momentarily take care of the events. Instead of just having the person participate in the event, please take on the responsibility of nurturing the person on a one-on-one basis. I strongly feel that we are being told to do so in this manner.
Although the 120th Anniversary of Honjima Grand Church, scheduled on May 21 next year, is gradually approaching, I have no idea how the Covid-19 pandemic will be like around that time. I also don't know whether or not we can conduct the anniversary in the way we had done in the past.
One thing I keep in mind is the Divine Direction that is included in the Goals for Spiritual Maturity:
"If you bind yourselves together in a unity of minds, I shall provide any blessings for you." (Osashizu: January 19, 1898)
I think there are many ways to unite our minds as one, but I would like us to start by aiming to be united in mind at the worship hall of the church.
As the Covid-19 pandemic continues, we will have to keep wearing masks and may have to refrain from singing out loud. Yet, I would like us to sing the Mikagura-uta together even if we have to use a small tone while wearing masks. Let us unite our minds for the anniversary and make progress in our effort in repaying the blessings we receive.
Thank you for your kind attention.
(Edited by Honjima Tsushin Editorial Staff)