April 14, 2021 (184th Year of Tenrikyo)
Honjima Grand Church Head Minister's Meeting
"Sprinkle the Fragrance—Anytime, Anywhere."
Rev. Kanta Katayama
Honjima Grand Church Head Minister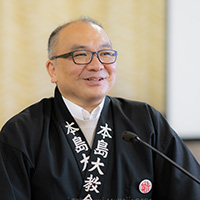 (Summary)
◇ Prayer Service for Sooner Ending of the Covid-19 Pandemic
On April 1 at noon, a prayer service was performed at the Church Headquarters praying for sooner ending of the Covid-19 pandemic. The prayer service is scheduled to be performed on the first of every month throughout the year.
At Honjima Grand Church, we would like to perform the prayer service at the same time. We ask that you do the same at each church, fellowship or follower's home, hopefully at the same time.
I am sure you are all busy, but we would like to perform the service, aligning our minds to Jiba. So please spread the words to all the followers even those who live afar.
◇ About Missionary Work
At each missionary house across the nation, missionary work is being done enthusiastically. However, last year, the missionaries had to go through a tough time due to the pandemic. Although they were not able to spread the name of God (kamina nagashi) or do door-to-door missionary, they were able to bring many people to Jiba.
When I had a chance to talk to one of the missionaries, he told me that every day, he picked up trash in the neighborhood, cleaned the playground nearby, and greeted people passing by. Through making such daily efforts, while greeting people, he said he received a blessing of someone to join a pilgrimage to Jiba.
The important thing is to settle the teachings of Oyasama deep in our hearts firmly, and carry out missionary work through our daily lives.
So instead of pushing ourselves to engage in missionary, let us always focus on spreading the teachings anytime and anywhere.
Thank you very much.
(Edited by Honjima Tsushin Editorial Staff)