December 22, 2021 (Tenrikyo 184)
Honjima Grand Church Head Minister's Meeting
Let us advance aligning our minds with the words of the Shinbashira
Rev. Kanta Katayama
Honjima Grand Church Head Minister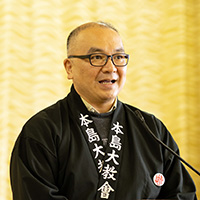 (Summary)
Reflecting back on the steps we took over the past year, what are your thoughts on our implementation based on the words we received from the Shinbashira at the beginning of the year?
"We are unable to move forward with our work without the support received from God the Parent. When you consider this, I feel, we mutually must firmly and also thoroughly settle the teachings in our minds in order to receive the workings of God the Parent." (Unofficial translation)
"No matter how much we conduct missionary work, unless we lack in effort for nurturing the members, it will amount to nothing. It is to make steady efforts to nurture your church members, which should have continued without ever changing. Yet, before we know it, I feel we have become negligent." (Unofficial translation)
As head ministers, let us once again embed these words in our hearts, be straight forward to the teachings, strive to nurture your church members and also strive to align with the words of the Shinbashira.
Next year at the Church Headquarters, it was announced that they will continue to conduct monthly prayer services on the 1st at noon (January will be on the 5th at noon), to put an end to the new strain of the coronavirus.
I would like to request each church and all families to make an effort to conduct this prayer service.
(Edited by Honjima Tsushin Editorial Staff)