June 22, 2021 (Tenrikyo 184)
Honjima Grand Church Head Minister's Meeting
"At the time of knots, ponder the truth contained within and make spiritual resolutions."
Rev. Kanta Katayama
Honjima Grand Church Head Minister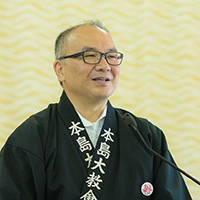 (Summary)
I would like to share with you some of my thoughts.
Vaccinations are making progress but I honestly don't know whether the pandemic will end or the next wave of variant virus will ravish the world.
However, considering that this is all done by God the Parent, I feel that we must attain better understanding of such a difficult knot. I don't think we should conclude this as happy ending when the pandemic is over.
During the past 2 years, various events and activities have been cancelled. In other words, they have been taken away temporarily by God the Parent. At the same time, this knot provided us the opportunity to review the real purpose of having these events and activities.
Rev. Nagashima talked about "pondering of the truth" in today's sermon.
In Tenrikyo Dictionary, "Pondering" is defined as following:
【Pondering】 Terminology from Scripture. To think over and contemplate. (…) To ponder is not humans thinking arbitrarily on their own just with human thinking (this is called "self-centered thinking"). In order to understand the teachings that God the Parent revealed, one must listen to the teachings, see God's workings and ponder. It is important to resolve one's mind and to decide on things after having done that.
The final verse in the Ofudesaki reads:
I earnestly request each and everyone of you to ponder deeply over these teachings. (Ofudesaki XVII:75)
In the final Divine Directions, also, it says:
All of you must ponder quickly. All of you must apply your strength. I convey my will firmly to you. (Divine Directions June 9, 1907)
I would like to accept this knot as an opportunity for us to reassess the foundation of our faith and for us to take a new step toward the Joyous Life. I want to accept it as God's parental love, and I will ponder and resolve my mind.
Thank you for your kind attention.
(Edited by Honjima Tsushin Editorial Staff)