December 22, 2020 (Tenrikyo 183)
Honjima Grand Church Head Minister's Meeting
The year of 80th Anniversary since Honjima was promoted to a grand church—Let's make next year the year of "Sah!"
Rev. Kanta Katayama
Honjima Grand Church Head Minister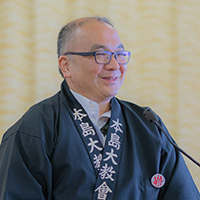 (Summary)
Time flies and it's already December. This will be my final greeting of the year.
Eighty years ago, in 1940, Honjima was promoted to a grand church from a branch church.
The dedication service for a grand church promotion was conducted on May 14, 1941. The night before the dedication service, a new shrine was installed in the memorial hall and the first Shinbashira's memorial tablet was enshrined by the second Shinbashira.
At the reception afterwards, the 2nd Shinbashira said, "bring me a writing brush" and he took the brush and wrote the following words on a folding screen—"Sah, sah because Tsukihi exists, the world exists. Because the world exist, thing exist. Because things exist, your bodies exist. Because your bodies exist, law exists. Although the law exists, to resolve your minds is primary."
The late Rev. Takaji Nagao, told us this story.
On the occasion of the grand church promotion, when Honjima was to shoulder a tremendous responsibility, the 2nd Shinbashira wrote above Divine Direction.
The foundations of everything is the truth of Tsukihi, God the Parent, and let us always keep in mind the order of such divine principle.
I'd like to make next year the year of "Sah!" In the Osashizu, the Divine Directions, most of the divine instructions begin with the words, "Sah, sah." So to speak, it's God the Parent's way of getting the attention of us human beings.
It also can be said that these are words of encouragement for us to connect with. "Let's do it!"
We have one year and five months until the 120th Anniversary of Honjima Grand Church.
I'm not sure what the situation will be in regards to COVID-19, however, for those of us who follow the teachings of Oyasama, I hope we continue on our path of spiritual development in making the Joyous World a reality.
Sah, sah, let us all move forward with united hearts.
Thank you for your service this past year.
(Edited by Honjima Tsushin Editorial Staff)