March 22, 2021 (Tenrikyo 184)
Honjima Grand Church Head Minister's Meeting
Common sense changes over time; but our mindsets must not change.
Rev. Kanta Katayama
Honjima Grand Church Head Minister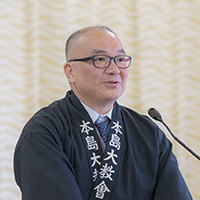 (Summary)
The Covid-19 pandemic continues but each person may have different responses to it.
In a long staircase, there may be an occasional landing. After Oyasama withdrew from physical life, churches began to receive divine sanctions to be established and through the sincere efforts of our pioneers, the path, the teachings that Oyasama began only by Herself, was widened to the world. We then started to commemorate the anniversaries of Oyasama. It has been 30 years since the 100th Anniversary of Oyasama was held and I think we are at that landing in the stairs where we are to look back at that time.
The church is the place where we carry over the path that our pioneers started toward realizing the world of the Joyous Life. We should reflect on how we are acting on this original spirit, and whether we are not lapsing in action. I, myself, as I reflect back, I have realized many things.
Worldly common sense changes with the times. However, even if common sense changes, there is a mindset that must not change. I think it is important that we reflect upon ourselves and reassess what kind of mind we are going to use as we follow this path.
Let us set our sights to an unmistakable goal and continue with the thought, "Yes! I'm going to continue climbing these steps!" With such mindset, I think we will be able to relay to our children what we need to convey with confidence.
I hope that we can deepen our understanding of the teachings of our path and Oyasama's Divine Model during this seasonable time and even if there are times when we are not feeling spirited, let us continue to seek God the Parent's intention. Let us reset our minds, lift one another's spirit and advance forward.
Thank you.
(Edited by Honjima Tsushin Editorial Staff)