December 22, 2022 (Tenrikyo 185)
Head Ministers' Meeting
The key words are: Service, Missionary Work, and Pilgrimage to Jiba.
Rev. Kanta Katayama
Honjima Grand Church Head Minister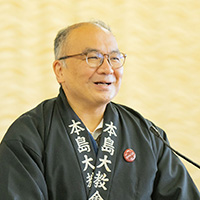 (Summary)
I served as the homeroom teacher for 3-month Spiritual Development Course and I learned so much.
There were 18 students in my class and out of which, two entered the Course for someone else, instead of for her own.
Of the two, one entered the Course wishing for the blessings of recovery for her 0-year nephew who is battling intractable illness while the other entered the Course to accompany her cousin who was hospitalized for 8 years.
Both students dedicated 3 months for her nephew and her cousin, respectively, and entered the Spiritual Development Course.
Through them, I learned that Jiba is such a precious place and is the place, which is the place of human creation, to return to pray for someone else.
During the pre-anniversary activity period for Oyasama's Anniversary, let us center our thoughts on Jiba and go through "three years, one thousand days" period.
On January 21, the Mission Visit by Church Headquarters' official will commence, and we will be receiving Honbu-in, Rev. Zenkichi Tanaka. There he will talk about the spirit of the Instruction Four, and we will receive insights regarding our efforts moving forward.
Oyasama went through hardships approximately 18 times, and until the time She withdrew from Her physical life, She hastened those around Her to perform the service.
This is my own personal opinion, but I feel those around Her loved Oyasama very much, and were consumed at wanting to see Her get better. However, Oyasama was hastening the service for world salvation.
Reflecting on the fifty-year path of the Divine Model of Oyasama, first we must firmly in-bed the service within our hearts, and so to bring joy to Oyasama, I would like you to apply your efforts in aligning yourselves with Her desire for us to perform the service.
Finally, along with the service, for the next three years, I would like you to focus daily on your effort toward spreading the teachings.
Last year on November 22, Rev. Yoichiro Miyamori, the church counselor for Honjima Grand Church, visited Honjima, and he talked to us about what is the meaning of "following the Devine Model of Oyasama."
Rev. Miyamori stated clearly, "to follow the Divine Model means to help those who do not understand attain understanding and to guide them until they do, and we must be willing to do whatever it takes to accomplish it. This is the Divine Model."
During this "three years, one thousand days" period, each Yoboku is to be conscious of pre-anniversary activities, and help those who don't understand to attain understanding clearly until they do and guide them along. Invite them to the church, bring them to Jiba, and moreover, work diligently for them so that they would attend Besseki lectures and Spiritual Development Course. Work diligently for one person first and then move on for the second and the third persons. I would like us to perform the service praying to be able to accomplish these.
Further, when returning to Jiba, let us not just return but think of a way to return to Jiba and how to spend time in Jiba based on how we can bring satisfaction to our spiritual parents.
I personally think that the major keywords are the "service," "missionary work," and "pilgrimage to Jiba." Also, this may be a small thing, but I would like to say "thank you" more rather than being told.
Following the Mission Visit by the Church Headquarters' Official on January 21, we will hold the "pep rally" on January 25 at Honjima Followers Dormitory. At this gathering, we would like to have a discussion session on the spiritual resolutions of each church based on the Mission Visit by the Church Headquarters' Official.
I hope that this pep rally will help us nurture all Yoboku and followers who belong to Honjima so that they all perceive the pre-anniversary activities as their own matter and work diligently for it.
Thank you for all your hard work throughout the past year.
I would like to ask for your continued support in the new year.
(Translation by Honjima Translation Team)
(Edited by Honjima Tsushin Editorial Staff)