September 22, 2021 (Tenrikyo 184)
Honjima Grand Church Head Minister's Meeting
Let us utilize suitable resources such as social networking services to nurture someone.
Rev. Kanta Katayama
Honjima Grand Church Head Minister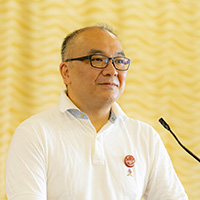 (Summary)
First, I would like to make an announcement. Rev. Miyamori, the counselor for Honjima Grand Church, was scheduled to do the mission visit to Honjima on October 22, the day of Honjima Grand Church's autumn grand service. However, his mission visit is postponed to November 22. As such, I will deliver the grand service sermon next month.
Now, I would like to talk about three things today.
First, I would like to talk about "All Tenrikyo Nioigake Day."
This year, it is scheduled for three days from September 28th to 30th and all Yoboku are encouraged to take part proactively.
The theme is "Let us spread the teachings to people around us." Sample activities are administration of the Sazuke; carry out missionary work by utilizing pamphlets, by writing letters and postcards, by utilizing video and audio on the Internet and/or by using social media.
I personally think not to limit carrying out missionary work only during these three days. I think it is very important to continue to utilize aforementioned methods in order to nurture our fellow followers.
The younger generation are very familiar with SNS. I would like you, especially the older group, to do your best to familiarize yourself with it in order to connect better with younger generations. In order to convey our will, it's important to adjust yourself for them. So please try your best.
The second point is about higher education. In Japan, fall is an important time for many students as they prepare for entrance exams and which courses they will need to take. Students in their final year of junior high school are deciding whether to continue on to high school. Seniors in high school are making decision on whether to attend college or vocational school, and what kind of careers to pursue, among a lot of other things to think about.
There are options like staying close to home and attending school or finding a job, or even in schools or jobs in Jiba, but please consider the options to perform Hinokishin services at the Church Headquarters.
Young people can experience being in Oyasato, the Home of the Parent, being around kind and thoughtful people, and being in the atmosphere of Jiba. I'm sure this will bring strength and support to the person throughout his/her life.
I would like to ask you to make effort for the young folks to connect themselves with Jiba while they are young.
The third point is the returning of the church shrines to Church Headquarters.
On September 9th, there were 12 churches from Honjima Grand Church that were returned to the Foundress Hall in the Church Headquarters. The next day, after evening service, there was a ritual procedure and with that, these 12 churches were removed from the church roll.
Besides those, because of the current immigration restrictions into Japan, there are six overseas churches that are also marked for return. In all, please note that there are a total of 170 local churches under Honjima.
Nine years ago, there were three churches that were returned to the Church Headquarters from Honjima, I received these words from the Shinbashira, "I will take on your load in order for you to be able to diligently conduct the activities for the anniversaries of Oyasama and to further the spiritual growth of your followers."
This may not be the best example to illustrate, but in nature, sometimes you need to thin out the unhealthy trees in order to encourage growth in surrounding trees.
I would like to make sure that we do not just dismiss so lightly of this knot of returning these 12 churches and their sacred symbols of worship. I would like for all of us head ministers to reaffirm the purpose of our churches, the nobleness of our churches' names, and the importance of connecting to others. Savor the gratitude and for the 12 churches we have lost, please give your efforts toward the spiritual growth of all.
Thank you for your kind attention.
(Edited by Honjima Tsushin Editorial Staff)