December 22, 2019 (Tenrikyo 182)
Honjima Grand Church Head Ministers' Meeting
Let us solidify the base and move forward
Rev. Kanta Katayama
Honjima Grand Church Head Minister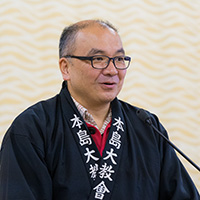 (Summary)
In looking back at this year, I was reminded of Kiyoko Suizenji's song, "The 365 Step March."
Happiness doesn't walk toward us
That's why we walk toward it
One step a day, three steps in three days
Taking three steps forward and two steps back
Life is a one-two punch
Sweating and crying, let's keep walking
Where you left your footsteps
A beautiful flower will surely bloom
Swing your arms, lift your feet
One two, one two
Don't take a break, keep walking
Hup! One two, one two
One two, one two
(Original Japanese lyrics by Tetsuro Hoshino, Composition by Masao Yoneyama)
In this song, I would think you can replace the lyric "happiness" with the "Joyous Life."
The Joyous Life doesn't walk up to us. Rather, we must walk the path of the Joyous Life. We must go forward step by step, following the path that Oyasama laid for us. If you don't pay attention, weeds may sprout up quickly and cover the path. So you must diligently follow the path.
However, there may be times when you may falter a couple of steps backward. Because the ground may have been shaky, you may have to take a step back then take a firm step forward again.
We should reflect whether we are firmly walking the Path, through the sweat, through our cries. If we think of the pioneers of the path, I think we are still very naïve. "Let's keep walking" means to me that we don't just stop in our tracks. Let's call on our friends around us and support each other through this.
Lastly, "swing your arms, lift your feet, don't take a break." In the Hand Dance, the movements for "hinokishin" are lifting your hands and lifting your feet as you step toward Jiba.
This coming New Year, the 183rd year of Tenrikyo, I'd like to focus our effort in nurturing the human resources.
Thank you for your efforts this past year.
(Edited by Honjima Tsushin Editorial Staff)