June 22, 2022 (Tenrikyo 185)
Honjima Grand Church Head Minister's Meeting
Keep the steady pace and spiritedness during the three-year pre-anniversary activities.
Rev. Kanta Katayama
Honjima Grand Church Head Minister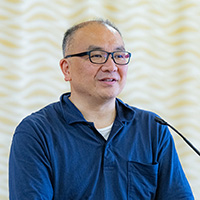 (Summary)
When I was a child, I was a fast runner. When I attended a middle school in the United States, surprisingly, I did pretty well on the 800-meter run (0.5 mile) in the PE class. Since my weight was about a half of what I weigh today, I was fast.
You would sprint all out if it is a short distance like 50 meter or 100 meter dash.
For long distance run, I think you would run slower than short-distance run and pick up the pace at the end.
If you run full speed from the beginning in a long-distance run, you will run out of gas in the middle. Moreover, if you run slowly in a short-distance as you would in a long-distance run, you will come to the end even before breaking a sweat.
When it comes to a middle-distance run such as 800-meter, it is quite difficult to maintain optimal speed. You still have to push yourself but not to make it too fast to save energy so you don't get exhausted too soon. I thought determining and maintaining optimal speed are the key to run in a good time.
Also, it is rather difficult to run forward if you shift your weight backwards. It is important to maintain the weight shifted forward. However, if you are careless, your weight tend to shift backwards. Thus, in order to shift your weight forward, I think it is important to first, have a sense of purpose and keep running towards the goal, without losing the aim.
The reason why I said this was because in the June issue of Michinotomo Magazine, there was an interview titled, "Things head ministers should do now in preparation for 'Three Year, One Thousand Day' pre-anniversary activity period towards 140th Anniversary of Oyasama," and in it, the Director-in-Chief of Administrative Affairs said, "I believe that it is important to set a goal for three years and continue to work with the same amount of energy for three years."
To continue to work with the same amount of energy for three years, the pace is important, as well as having the weight, which is also the "spirited mind," shifting forward.
To begin with, although it could be something small, but to set the pace for the next three years, I set an alarm at two o'clock in the afternoon in my smartphone to vibrate every day.
By doing so, I would like to begin by reminding myself to be more conscious every day that two o'clock in the afternoon is when Oyasama withdrew from Her physical life, opening the portals to save the world.
I would also like to see many people, such as followers of Honjima, visit subordinate churches, and also see people who are in need of salvation work. I hope I can do so in a way I can continue visiting. For example, I want to do things I ended up doing only once before but this time, I'd like to do it again or three times from now on. Or I perform a prayer service for a particular person every day.
I hope we can all make some sort of resolution so that we can complete it with the same amount of energy during this "Three Year, One Thousand Day" pre-anniversary activity period without withdrawing in the middle. So for now, let us start preparing our minds for it.
(Edited by Honjima Tsushin Editorial Staff)